You have choices for child care. Here's why you should choose us.
There are other referral agencies, national babysitter websites and day care centers at some of the major ski resorts.  Why should you choose Resort Sitters?
Our Experience and Reputation
When you contact our office, you'll be talking to an owner.  Resort Sitters has been in business for more than a decade and many of our contractor sitters have been working with our service for years.  Some of our competitors are newcomers to this business.  You might want to inquire regarding longevity and experience.  We have a well-earned reputation for excellent customer service.  We receive referrals from every major lodging property and rental agency.  They know we take care of our clients.  We are your trusted resource for child care.  We live in the Colorado mountains.  If there is a problem, we are here, not in an office half-way across the country.
Our Babysitters
We work only with excellent, experienced babysitters.
To get an interview with us, an applicant must have babysitting experience, three child care references and be at least 21 years old.  Some services send teenagers to care for your children, we send adults.  All sitters are interviewed and their childcare references are verified.  A nationwide identity and background checks are performed through InfoCubic, an outstanding workplace security company based in Denver.  For international applicants, a background check required for their visa clearance is reviewed.  All applicants must also have passed a CPR certification exam.  Additionally, we solicit client feedback about all of our contractor sitters.
We personally select a sitter who will meet your needs.  Just tell us what you are looking for!  We have a diverse group of contractor sitters, from college students to our "grandmother squad."  Please see our Safety page for more information about sitters' qualifications.  Book well in advance to ensure that the perfect sitter for your family is available when you need them.
"Thank you for your help in setting up our time with our sitter this week.  She was fantastic and I especially appreciated her willingness to play in the snow with our son.  She was prompt, cheerful and ready for anything.  She kept our son engaged and entertained.  When we got back he was tired and happy!  We'll be sure to call you again."
– Rachel B.
We Make Child Care Easy For You
You need only contact us once to request a sitter.  We do the rest.  If you use a national website, you may have to contact many sitters before you find one who is acceptable and available when you need them.  And what happens if your individual sitter gets sick or cancels on short notice?  Our sitters are very reliable, but if something happens, we have options and will work very hard to find a replacement sitter for you.
The Resort Sitters Experience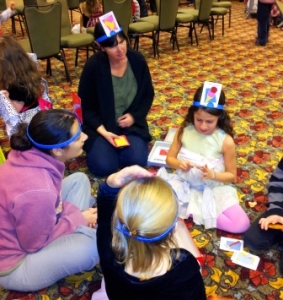 Our contractor sitters are fun, creative and engaging.  Your confirmation email includes the sitter's name, photo and a summary of their background in child care.  Before the appointment, your sitter contacts you to introduce herself/himself and discuss a child care plan.  They bring age-appropriate activities for your children.  With your permission, activities may include off-site fun and outdoor adventures.  See our Having Fun page for details.
Some families consider using group day care facilities available at the major resorts during the ski day.  We offer an alternative.  Our sitters care for only your children, at your location, on your schedule.  When you book in advance, we can usually reserve the same sitter for multiple appointments.  Many clients tell us that our sitters practically become members of the family.
Why Resort Sitters?
Simply put, excellent child care, superior customer service and peace of mind.  For your children, at your location, on your schedule.